Deep dive into India's own Amazon & how it is changing the way Indians shop online
Meesho is an online supply marketplace for resellers to source products and sell via social channels like WhatsApp, Facebook, Instagram. It talked about social commerce before it became a fad and was no more than a marketing gimmick to Indian VCs.
From failing to build a monetizable business previously (Fashnear) to facing struggles to raise Series A, the founders (Vidit & Sanjeev) persevered, ultimately building a business that is: soon to become a unicorn, has raised money from marquee investors like Naspers, DST, Sequoia, Facebook and has created 10 million micro-entrepreneurs. Today, Meesho is the poster boy of Indian startups, and founders are an inspiration to a generation of entrepreneurs dreaming to start their venture.
I'll analyze why social commerce is a big opportunity in India, why did Meesho succeed in its bid, why is the VC interest growing in this space, and why every social app will do commerce.
To get started, here's a brief overview of how things stand with Meesho:
A little background
India's retail market is ~$850 billion (2019) and is set to cross $1 trillion by 2025. The apparel business alone is worth ~$100 billion — 85% volume and 65% value being unbranded goods. Only 11-12% ($12 billion) is sold online, which is 20-25% of the total e-commerce in India ($50-$60 billion). There are 130 million users shopping for fashion online (2020), ~20% of the total fashion shopper base (650 million).
Let's talk about unbranded fashion goods. Traditionally, these items were sold by suppliers through offline stores before the internet + smartphone wave hit India. With the internet, these stores (sellers) found new powerhouses in WhatsApp, FB where they could connect with new and existing buyers.
Note: These are push products by design and thus, are hard to sell on Amazon's of the world.
These products are just not being listed on WhatsApp, Facebook by sellers but also by women entrepreneurs (resellers, typical housewives) running their boutiques online and sharing them with friends & family over WhatsApp. Take a look at the Facebook page for Anu's boutique.
Now let's define what is social commerce and who are resellers
Note: Recent social commerce startups SimSim, Bulbul have been leveraging Instagram, Facebook, TikTok influencers with large audiences to create intimacy at scale using video.
Enter Meesho
Meesho decided to capitalize on this behavior of social selling and targeted sellers by creating a free tool for them to do business on social channels. The team raised an angel round and went to YCombinator (2016) with this product and learned 2 hard lessons: 1) Monetization wasn't happening, 2) Retention was low.
The team noticed that the majority of users were not the same segment (sellers) they had been targeting. They were housewives (resellers) running their boutiques online. These housewives had been sourcing local supplies, curating, and selling it to their customers over WhatsApp (handling logistics, payments themselves).
The story was inspirational and laid the foundation for what Meesho is today.
The mission changed to: how to help people set up an online shop with zero investment.
After seeing early signs of growth & ability to monetize, Meesho decided to pivot and target resellers.
Thereon, Meesho embarked upon to solve the problem of sourcing (supply), logistics, and payments, for resellers, allowing them to focus on the core task of selling.
Addressable market and associated behaviors
Post pivot, Meesho became a marketplace connecting suppliers and resellers. This opened up new doors and changed the addressable market considerably.
Let's evaluate the market by understanding the behavior and motivations of different stakeholders — suppliers, buyers, and resellers.
Suppliers
For suppliers, social is a distribution channel for their products which helps widen the audience, improves customer experience, and builds loyalty.
The supply-side market size estimate according to these trends is $190 billion.
Buyers
While the online buyer base has touched ~700 million, <150 million have brought a product or service online. There is a relevant user base of 200 million, with disposable income, who are new online but are not yet product transactors. Some behaviors exhibited by these users:
Comfortable using WhatsApp, Facebook but don't transact online because of the perceived risks (frauds) and complexity of the process.
Not happy with the current shopping experience online. They research online, discover prices but ultimately make the purchase offline. This is due to a lack of trust in the selling platforms. Also, e-commerce platforms are self-serve, without a personal touch ⇒ product discovery is broken.
In a country with ~10% English speaking population, e-commerce remains English first. It hinders users' ability to get product information in their native language and make such platforms intimidating.
3 takes on market sizing:
200 million users with an annual spend of $50 = $10 billion market (2020).
According to McKinsey, ⅓ rd of consumer spending online can be influenced by interactions on social platforms, translating to a $16 billion market.
Resellers
Resellers are the true champions of Meesho's business. They are:
Come from mid & low-income households (<$10K/annum), 80% from tier-2, tier-3.
Looking for professional identity, aspirational, with little or no access to capital.
India had ~2 million housewife resellers (2017) which will be 20 million (2022). (Meesho currently has 10 million resellers). 70% of housewives sell clothing & lifestyle products, 20% sell accessories, jewelry, handbags, and footwear, and 10% sell home decor items, generating $8 billion in 2017 which is expected to grow to $50-$60 billion by 2022.
How Meesho works
Meesho is a B2B2C model that aggregates supply. This model leverages the reseller to:
Enable trust: acting as nodes in a blackbox delivery network.
Enable curation: resellers do the selection as they know their audience deeply.
Meesho monetizes by:
Commission from suppliers: For an item priced $10, it would keep 10-20% ($1-$2) varying by category.
Shipping revenue: It acts as an interface between two modular pieces of a value chain and charges per delivery.
Resellers set their own margin. For instance, a product listed on Meesho for $10 (+$1 shipping) can be sold for $110 ≧ Price > $11.
State of the business and growth levers
In FY17, Meesho spent $1.41 to earn $1 in revenue, in FY18 it spent $1.83, in FY19 it spent $2.18, with the majority being spent on shipping. I'm still optimistic because Meesho is losing money in acquiring new users than servicing the existing ones.
Meesho's taking a blitzscaling approach and in the process, it's becoming a company with a wilting quantum of unit economics. It needs to tighten the screws before things get worse.
Note: Assumed that 25% of resellers are active on the platform.
Social commerce will become a phenomenon in India
Social tech has a primal appeal. It's fundamental human behavior to seek identity and connectedness with groups that share their characteristics and interests. Social tech has given these behaviors the speed and scale of the Internet at virtually zero marginal cost.
Small neighborhood stores continue to stay relevant even with the advent of e-commerce and 90% of retail in India is still unorganized. Why?
→ Familiarity, trust with the channel remains intact.
→ Product discovery online largely remains unsolved. Something similar transpired in China when eBay entered the market and failed because it did not understand user behavior (localization, regional language, flexibility).
→ Convenient payment options: UPI has truly been a game-changer but nothing beats a weekly/monthly credit line at your local store (re: Khatabook).Social selling is able to replicate these offline transactions online
Overlap between people on social platforms & people with purchasing power: 300 million smartphone + internet users belong to an income-earning age group. With India set to become a middle-class economy, their spending will only grow.
Why did Meesho succeed
Founders DNA: All founders are passionate. However, successful CEO-founders are a rare breed. Meesho's moment of truth came quickly when they had to make a hard call to pivot. They did, and it paid off. Vidit has executed at every level and the strong numbers reflect on his execution capabilities.
Customer obsession: Meesho is driven by relentless customer focus. Monthly town halls to listen to the customer queries, Meesho business academy, Vidit staying connected with 100s of users, shows how they like to work backward on problems faced by their customers (remember Amazon?)."The best thing is to build a product that solves your own problem, second best thing is to build a product that solves problem for someone who can't solve their problem"
Differentiation by offering diversity & competition at different stages of the value chain and aligning incentives. Example: reseller bonuses; with growing #daily orders, 3PL companies bound to offer competitive shipping prices.
It took a uniquely Indian problem and enabled existing market functions by inserting technology to do things more efficiently at scale.
Timing: Smartphones + Jio + UPI helped in proliferation.
All that glitters is not gold
Marketplace liquidity is dependent on resellers' ability to aggregate demand.
Unit economics and profitability: Although Meesho is capital efficient than its competitors, it still needs to find a clear path to profitability.
→ Logistics cost: In FY19, Meesho lost $5.65 million ($1.06/order) in shipping.
→ High % of variable costs: In FY19, ~88% of costs were variable (difficult for economies of scale to kick in).
Return rates and poor product quality: Reports claim up to 40% return rate.
No reseller is true to the platform. Resellers have the incentive to be on all supply-side networks. Stickiness ∝ wide array of categories, depth of products across categories, product quality, and competitive pricing.
Activating signups to become active resellers. Lack of product knowledge, not finding suitable product categories, products not "premium" enough for certain archetypes, or inability to aggregate demand.
Premiumization: Middle and high-income households will drive ~$4 trillion of incremental consumption spend by 2030. $2 trillion incremental spendings will be led by consumers upgrading to branded, higher-priced offerings, or adding new products/services to their consumption.
Where do opportunities lie
Target the conservative rich: This archetype has higher disposable income, show behaviors similar to existing users (WhatsApp friendly, buy largely offline, lower brand preference) but might demand more premium goods across categories.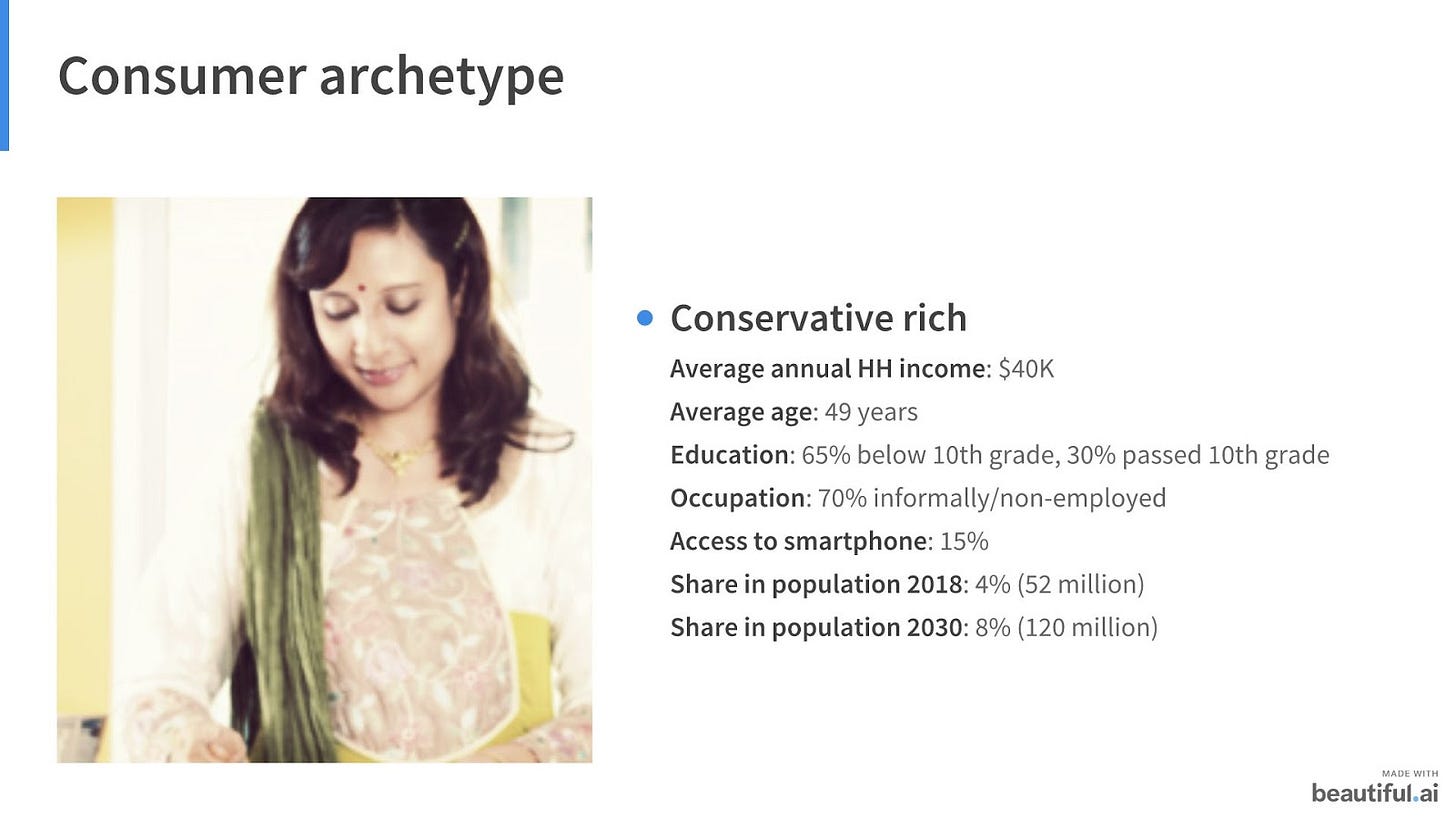 Diversification: Expanding into categories that remain offlineShould be/have: 1. commodity products, 2. repeatability, 3. margins, 4. be resellable. Based on these 4 criteria and data above, Meesho can add:
1. Food (ready to eat/cook, diet snacks, comfort foods, spices)
2. Health & Wellness (immunity boosters, supplements, gym equipment, devices).
New geographies: Meesho has recently started operations in Indonesia (developing economy, similar user behavior) with a $15-$25 billion market size.
Product innovation: weekly/monthly credit line for resellers.
Move up the value chain and become a supplier of trusted goods.
Introduce monetizable demand aggregation support on its platform.
Why VCs like social commerce
Socially influenced commerce bound to grow because:
→ India is a trust deficit market and resellers/influencers enable exactly that.
→ Some product categories require a primer on why/how to use them. This is made easier if explained over conversations & videos (creating intimacy at scale).
→ Pacifies the language barrier:​ Users have a high affinity for regional language and want clear & simple communication. For example, Niyo bank offers to read the T&C to its users in their chosen language.
→ Introduces a room for negotiation: Unlike traditional e-commerce, it enables interaction and negotiation on the price of goods and services.
Improved margins in unbranded goods vs the branded goods sold by other e-commerce companies by creating an efficient supply chain and thus getting rid of inefficiencies in distribution leading to higher retail margins.
Removes barriers to entry: zero working capital, access to supply, logistics, payment solutions.
Building for Bharat: It's a buzzword in India just like blockchain, AI/ML, etc. As soon as someone talks about Bharat you start picturing a "village" like this…
Err, Bharat ≠ village. It represents a demographic — low-income (<$10K/annum), affinity towards regional language, ~70% educated below 10th grade, not tech-savvy, first-time users of the internet. They reside all over the country, including metros! To serve these next 400 million users, we need to: 1) Understand behaviors, 2) Use data to test what's working, 3) Customize our product offerings.
Closing thoughts
Social commerce is about capitalizing on different social behaviors (Meesho = housewives reselling on WhatsApp, PinDuoDuo = group buying, SimSim = intimacy through video). In the future, we will all shop on our social apps because they are perfect distribution vehicles and provide authenticity in a social context.
It's a billion $ opportunity, solving the trust deficit prevalent in the Indian market. Building trust, in turn, will bring along loyalty which ensures repeatability. It also gives trust bearer an opportunity to monetize by cross-selling. Overall, Meesho is well-positioned to be a successful multi-billion $ business in this big market.
The following two tabs change content below.
Rohit Manchanda
In pursuit of understanding the new worlds around me. I use writing as a way to deep dive into trends or observations within technology, startups, or markets that I'm learning about.
Latest posts by Rohit Manchanda (see all)